Music Publishing Exhibition in Cervera whithin the 12è Curs Internacional de Música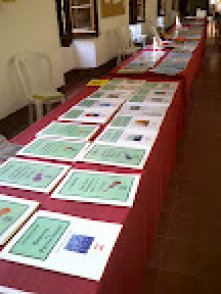 27/07/2012
On the 25th July, GEMC (Music Publishers Association of Catalonia) was present at the music publishing exhibition held in Cervera whithin the 12è Curs Internacional de Música - 21st to 28th July.

This year, the Course gathered more than 150 students and prestigious teachers working in string, wind, piano and guitar music. There were also concerts, talks and master-classes along with the presence of a collective of luthiers.
For the 5th consecutive year, music publishers were invited to exhibit their novelties both to alumni and teachers of the Course.
The exhibition stirred the interest of Course participants, who both attended their lessons and spent time discovering sheet music suited to their level. Young trumpetists, little double bass players or hard working pianists searched for new works in a dream to play them for an audience sometime in the future.
An interest for Catalan composers was markedly appreciated.