Classical NEXT 2013 - Vienna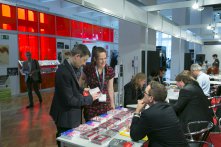 10/06/2013
A new model of music trade fair is walking its first steps in Europe. A GEMC observer attended Classical:NEXT, which held its second edition in Vienna, May 2013.
Classical:NEXT is a smaller format fair, with its value stemming from the trade contacts provided by the organization, rather than from a the display of ostentatious and luxurious facilities.
This new format perfectly suits the needs of the smaller publishers that form GEMC.