BCN BASS MEETING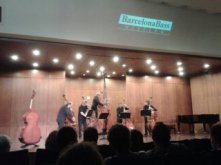 02/06/2013
GEMC publishers attended the
Barcelona Bass Meeting
that took place at the Conservatori Municipal de Barcelona last May.

The meeting, conducted by Jonathan Camps and his great team, was held under the motto "creixent junts" - growing up together. It gathered international professionals such as Gary Karr, Diana Gannett, David Murray or Volkan Orhon among others. The event brought these professionals together with young players, eager to work with their idols in master-classes and exhibition concerts.

Both, professionals and young players, showed interest in the sheet music in display there. Also, new editions of bass works by contemporary composers were presented at the meeting.